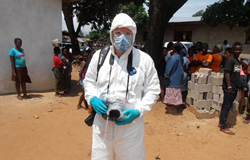 Essex (PRWEB UK) 30 August 2014
A local and online pharmacy based in Essex named Asset Chemist in Tilbury is sending out a variety of protective clothing to Nigeria in support of the Ebola virus outbreak.
This will help health care workers from being infected by wearing the necessary clothing provided.
Face masks

Long sleeve disposable medical scrubs suits

Medical visor face shield
A recently published news article from the BBC has stated that a 29-year-old volunteer male nurse has been infected with the Ebola virus due to his care for victims of the outbreak in Sierra Leone.
Current Ebola Situation in Sierra Leone as of August 13th 2014
Suspected and Confirmed Case Count: 910

Suspected and Confirmed Case Deaths: 392

Laboratory Confirmed Cases: 804
This virus which currently has no cure, has almost killed a staggering 1500 people within the last few months. The best way to avoid catching the disease is by not traveling to areas where the virus is found.
Symptoms of the virus show up 2 to 21 days after infection and usually include:
High fever

Headache

Joint and muscle aches

Sore throat

Weakness

Stomach pain

Lack of appetite
People who have unfortunately contracted the virus will get the best medical attention by the many brave health care professionals. As there is no specific treatment for Ebola patients, the best given advice is to stay constantly hydrated at all times.
Travellers that are thinking of going to any of these countries (Guinea, Liberia, Nigeria, Sierra Leone) Please do consider the risk of infection, but to help prevent this make sure you follow these simple precautions that will minimise your risk of catching Ebola virus disease:
Don't handle dead animals or their raw meat, don't eat 'bushmeat', avoid contact with patients who have symptoms, avoid having sex with people in risk areas; use a condom if you do, make sure fruit and vegetables are washed and peeled before eating them, wash hands frequently using soap and water (alcohol hand rubs when soap is not available), as this destroys the virus.
Comments
comments